There are very few places you will find as rich in religious history as Israel. There are many fabulous reasons to visit Israel alongside this, though we do have our favourites. Whether you're going to explore this history, experience the important sites of Christianity, Judaism, or Islam, or perhaps you want to indulge in the sun on a beach and take a dip in the Dead Sea, Israel is an entrancing destination.
Depending on your weather preferences, Israel is highly recommended during the spring and autumn months, with plenty of sunlight but not as hot as in the summer, it is an ideal time to book a holiday.
1. Dead Sea
One of the most famous attractions of Israel, The Dead Sea is actually a salt lake shared by Jordan, Israel, and Palestine in the Jordan Rift Valley. It is named The Dead Sea after the fact that no plant or wildlife can grow and survive in the lake because of hypersaline conditions.
If that isn't fascinating enough on its own, The Dead Sea's high salt content (around 34.2%) is the highest in any body of water in the world and creates such a condition that you cannot swim in the water, but actually, float. This has inspired many pictures of visitors floating while reading and draws in travellers constantly. It is such a unique place to visit, and easily one of the top reasons to visit Israel for many.
The Dead Sea is also famous for its altitude, one of the lowest points across the work at 430 km below sea level. There is no place quite like The Dead Sea, whatever the reason you visit Israel, we highly recommend taking a trip there, nothing can quite do it justice.
2. Tel Aviv
Though it isn't the capital of Israel, Tel Aviv is a fantastic, beautiful, and incredibly interesting city to explore and for many will be one of top reasons to visit Israel all on its own. It's no wonder Tel Aviv is a UNESCO World Heritage site with its beautiful Bauhaus architecture, accessibility, and cultural experiences bustling with a relaxed atmosphere.
Even if you don't intend to stay in one place for long when you visit Israel, Tel Aviv is a great hub for many experiences. It has some awesome museums and the oldest neighbourhood, Jaffa, to experience some of the narrower, more traditional streets. It also has lovely beaches within walking distance, excellent food (including what is possibly the world's best hummus) and is home to some great events like Israel's Pride Festival.
Being in Tel Aviv during Shabbat (Sabbath) is also an entirely different experience to other places like Jerusalem. All through the morning and early afternoon on Fridays, it is bustling and energetic, the markets busy, a true sight to behold. On Friday evening families and friends prepare for the Shabbat dinner and you can even take part and experience this traditional dinner in some hotels or with a local family. The Saturdays are perhaps the favourite part for many, with everyone out and about and celebrating, and such a relaxed, happy atmosphere, you won't want to miss it.
3. History
It's no doubt that Israel has a lot of rich history. It is by far one of the most fascinating countries for its history, from the oldest spots, the cultures built, all the way to the modern, 20th-century splendour that inhabits places like Tel Aviv, Israel is full of history to explore.
There are so many gorgeous historical sites in Israel, including some fabulous UNESCO sites which include some of the major cities themselves like Tel Aviv and Jerusalem. We couldn't possibly cover them all, but they are easily some of the top reasons to visit Israel, so here are a few as food for thought.
If you're looking for a beautiful historical site that pulls on some ancient history in Israel, Caesarea is perhaps the place for you. Originally an ancient Roman city built in 22BC, Caesarea is now an archaeological site with some wonderful structures including a large amphitheatre overlooking the ocean and beyond, providing gorgeous sights.
Another captivating site would be Arsuf, also known as Apollonia, which contains the ruins of an ancient coastal settlement. Having stood for over 1000 years and showing off the stunning coastline, it's not just a spot of great history, but a gorgeous place to adventure when you visit Israel.
4. Religious Sites
If you're more interested in the religious history and sites that are some of the main attractions of Israel, you won't be disappointed. Whether you are travelling to experience places that are part of your faith, or you just want to see these famous places that are home to Christianity, Judaism, and Islam, the places that stand in Israel are breath-taking and bring to life the stories many of us know to some extent.
There are so many religious sites to see, you certainly won't get to them all, and some may even occupy a whole day alone to tour around the modern streets of an ancient place. Hebron is one of these cities, one constantly mentioned in the bible and significant to Christianity, Judaism, and Islam alike, you can take a tour of the modern areas of the city for a day alone. Seeing the old and the new together is truly magnificent.
There are so many more important sites to the religions home in Israel, holy places like Temple Mount, considered the holiest site for Judaism and the former site of the First Temple. There are also places like the Western Wall in Jerusalem if you want a more contained site to explore. And of course, there are whole cities like Bethlehem, the birthplace of Jesus Christ and the home of the Church of Nativity. Whether it is faith or fascination that takes you to these sites, they are gorgeous to see for yourself and we encourage you to visit at least one when you go to Israel.
5. Negev Desert
Perhaps one of the most full and fascinating natural places in Israel, the Negev desert could consume an entire holiday with the archaeological sites to see, historical spots littering the sand, and some cultural beauties all throughout, the desert is a stunning place to visit.
If viewing some beautiful sites isn't your thing, there are some awesome activities to do in the Negev desert. From sandboarding to camel rides and more, you can enjoy the desert however you please and have a stunning time.
The desert at night is a sight you won't want to miss either, with the clear night sky above it is magnificent, we highly recommend taking a moment to appreciate it. You can also take tours of the Negev desert to experience some of its wonders under expert guidance, and it's fascinating how full of life and history the desert truly is.
6. Jerusalem
Of course, we couldn't possibly forget Israel's capital city and the centre of some of the biggest religious sites in Israel. This list of reasons to visit Israel couldn't possibly be complete without talking about the beguiling city of Jerusalem.
From the delicious foods to the beautiful sights, the amazing architecture, the markets, the art, and the culture itself, Jerusalem isn't a famous and beloved city for no reason. Jerusalem is where you want to go to be at the centre of Israel's life, with great events, beautiful sites, and more.
Jerusalem also does a fantastic job of bringing together the modern and the old without losing any of either, though we highly recommend visiting the old Jerusalem district in the city, the modern aspects of the museums, festivals, and more are equally fantastic and worth the trip, or even the stay.
7. Masada
Though this could have fit into our great point on historical sites, Masada is perhaps one of the most gorgeous historical sites you will find in Israel and easily deserves to be one of its very own reasons to visit Israel.
Whether you go during the afternoon or evening, it is a whole other world each way and will take you on a journey through the history of the place with fantastic views to match. Specifically, many hike to the peak in Masada to watch the sunset as it is a unique and breath-taking experience that you won't have the same anywhere else. Pictures could not do justice to the sight.
Masada is also a national park, preserving the history and natural beauty around this ancient fortification. On the top of a cliff, it is well worth a day trip to take your time exploring it and take a unique hike to the top, we promise you won't be disappointed climbing to this peak.
8. Synagogues
A classic attraction for many visitors to Israel, the synagogues are some true treasures of architecture in Israel, as well as cultural places that give you just a taste of Israel in each one. Whether you want to tour around and visit a few, or you just want to see one, each is so unique and stunning that you could easily spend a few holidays visiting different ones and never get bored of them.
Many who love Israel call the synagogues a must-see for your visit, and we can see why. There is such a diverse range to see that we could hardly list all of our favourites, but each one is worth the trip. In Tel Aviv, you have some beautiful synagogues, such as the Great Synagogue, and Cymbalista Synagogue, one which is dedicated to educating people on the Jewish culture, for those of you who want to learn some awesome things about the places you're visiting.
In Jerusalem too, there are some fantastic synagogues such as the Hurva Synagogue, which was destroyed and rebuilt, potent with the history of the city as well as its own history. This is perhaps one of the items on this list that you absolutely can't miss out on.
9. Galilee
If you're looking for some vibrant green nature on your visit to Israel, it's a must to visit the region of Galilee. A fertile, mountainous range in the north of the country, Galilee is like another world to the Negev Desert and bright cities. This is also home to the Sea of Galilee, where Jesus is said to have walked on water.
Not just the Sea of Galilee, but Galilee is home to many significant religious and historical places in these mountains, besides being a gorgeous place to visit all on its own.
If you're looking for some activity, yearning to strike out into nature and take some beautiful hikes or take in the peaceful prettiness of the country, we highly recommend going to Galilee to do it. Not only will you cross and see some significant places, but this lush and fertile environment just proves how diverse Israel is.
10. Events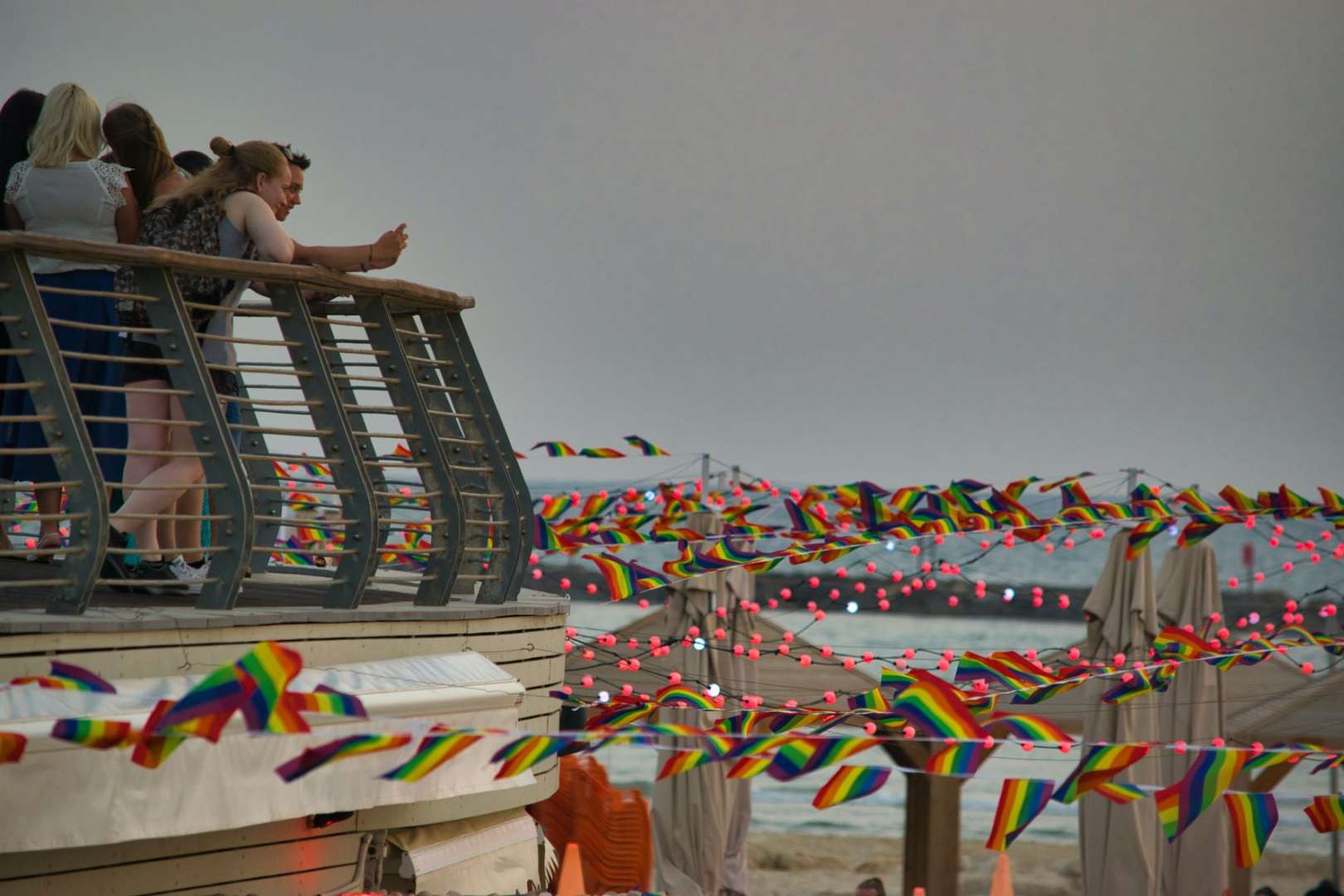 The only country in the middle east that currently celebrates Pride in June, alongside some fantastic other events that truly make this country a thrilling journey, among reasons to visit Israel comes the great events and festivals that you can attend and encounter.
Of course, this includes some of the wonderful events to celebrate Judaism like Yom Kippur and Hannukah, ones we highly recommend looking more into to explore where you can visit during these times. However, this also includes wonderful events like Pride in June, the LGBT+ Film Festival in Tel Aviv in November (voted one of the best LGBT+ film festivals in the world), and others like the Midburn Festival that takes place in Negev Desert.
The art festivals are particularly fascinating, such as The Israel Festival, which takes place every year in Jerusalem, open to international visitors and displaying all the different and gorgeous artistic minds of the country for all to see. There's something intoxicating about the culture these festivals bring to life, and we encourage you to at least see one on your visit.
Currently, as of November 1st, 2021, Israel is allowing UK travellers and we are incredibly excited. However, we do always encourage all travellers to check the Foreign Travel Advice site to keep up to date on requirements. Specifically, for Israel, this currently includes requirements for booster Covid vaccines, so we advise ensuring with your travel company that you're good to go.
So, now that you're ready to book your awesome holiday to Israel, don't forget to check out the Travel Israel tourism board and get in contact with a travel business registered with PTS offering 100% financial protection through trust. Or, if you'd like assistance choosing a PTS member to book with, you can contact PTS directly at 0207 190 9988.
And if you'd like to learn more about your consumer protection with PTS and how the Package Travel Regulations protect your holiday booking, check out our pages.
Share This Story, Choose Your Platform!