Known for the beautiful beaches, stunning resorts, and the nightlife, as well as endless gorgeous scenery under the bright Mediterranean sun, Ibiza is an easy choice for your next holiday. We highly doubt it will take all our top reasons to visit Ibiza to convince you.
If we could put all the reasons to visit Ibiza into one sentence, we would say that it is possibly one of the most one-of-a-kind places you will ever have the pleasure of visiting. There is no place quite like it, and even within itself, Ibiza contains so many different lifestyles to dip your toes into.
1. Beaches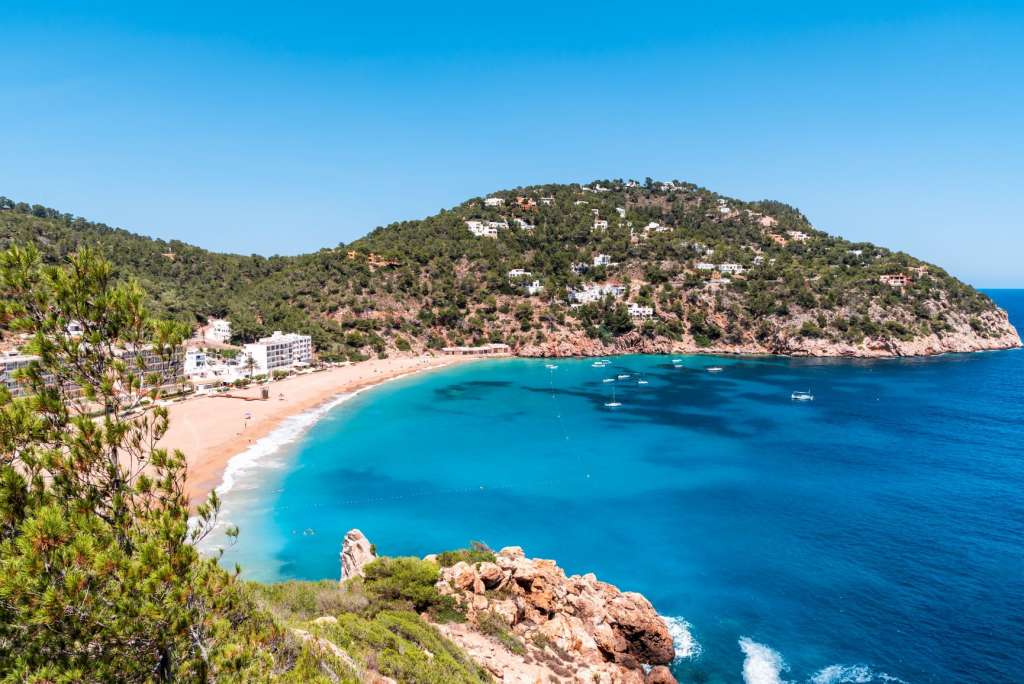 Starting with a classic, well-loved reason, the beaches of Ibiza truly are one of a kind and a stunning location to explore and relax.
From thriving beach party beaches, to populated family beaches, and all the way to quiet, peaceful, and remote beaches, Ibiza has a beach for every holiday maker, all of them covered in beautiful white sand and bathed in sunlight.
After a long night before, clubbers tend to frequent the busier beaches around San Antonio, on the south of the island. But not far off, on the north of the island you can find much more relaxing stretches of sand if you're the lucky holiday maker that got some good sleep the night before.
Because of Ibiza's 3,000 hours of sun, and constantly warm temperature, it's no surprise that the beach is a perfect spot all year round either. And Ibiza has so many beaches, with most of the land natural space, we highly recommend you check out the Ibiza tourism board to take a browse of just some of their stunning beaches for yourself.
Of course, we can't forget the beach clubs themselves as one of the excellent reasons to visit Ibiza. Easily an article on its own, there are plenty of beach clubs and parties that you won't want to miss. From elegant to rustic, the beach clubs in Ibiza are so aesthetically unique, but all will provide that perfect beachy paradise. From Kumharas in San Antonio Bay, to Chiringuito Blue in Santa Eulalia, there's a little something for everyone.
No matter where you stay on the island, you're almost guaranteed to be close to a beach and in a perfect spot to watch the gorgeous scenery from a lounge chair, and what's better for the summer holidays than that?
2. Sea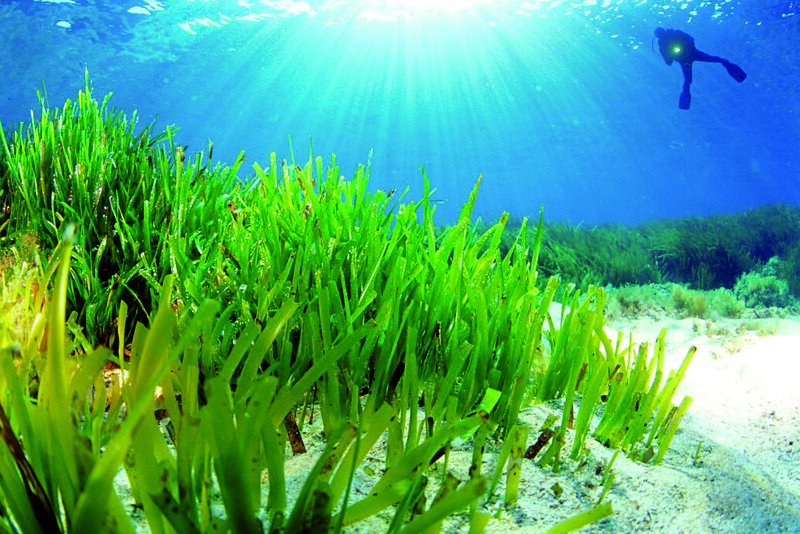 If we're being honest, I could most certainly construct a Top 10 list for Ibiza on ocean exploration alone. With all the activities, gorgeous clear water, and underwater scenery, you could easily go to Ibiza for the ocean attractions alone, although your skin might be a bit wrinkly by the end.
With crystal-clear water, natural coves, out-of-this-world under-water scenery and the expanse of the Mediterranean on all sides, it's one of the greatest features, and something you'd be greatly missing out on not to visit in some way
Not only can you enjoy all that nature can provide with scuba diving and relaxing boat trips, but you can take the party to the ocean on a classic Ibiza boat party trip. No matter what aspect of Ibiza you're exploring, there's a way to take the party with you or leave it behind. And that's no exception for the ocean.
Sailing from either San Antonio or Playa d'en Bossa, you can explore the gorgeous waters with good company, excellent music, and a drink in hand.
Whether you want to meander down the coast in a boat, scuba dive, just have a lovely swim, or explore the Posidonia Sea Grass Meadows that are part of an World Heritage Site, all of it is perfection in the seas of Ibiza.
3. Stunning Resorts and Villas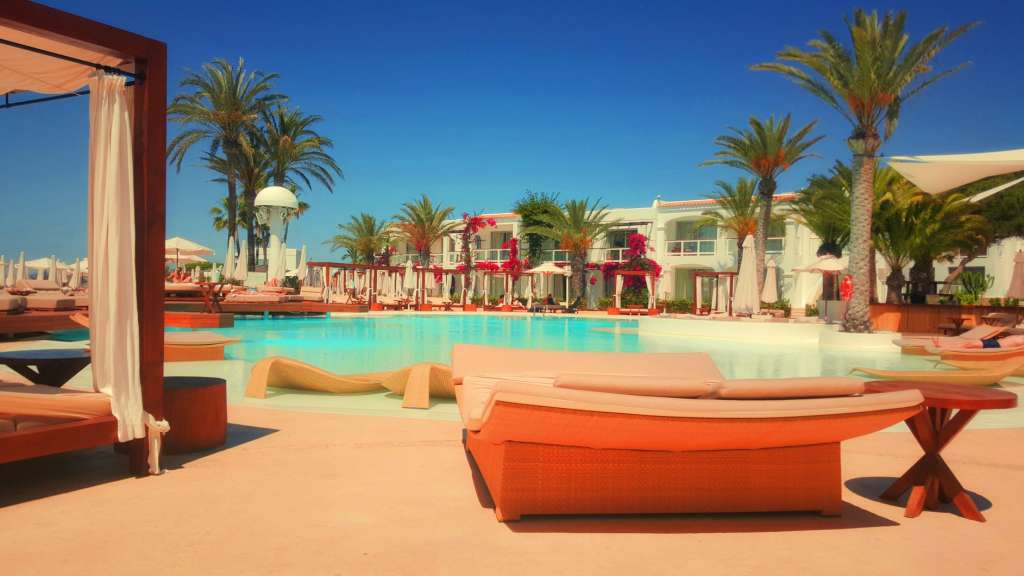 Accommodation is a necessity when you're going abroad, but in Ibiza? It's easily a whole reason to be there. There is no place quite like Ibiza, nowhere has such a stunning range of unique but equally quality and exciting resorts and villas alongside such a thriving party life.
From rustic boutiques to highly modern rentals. Resorts to private villas, always with gorgeous views and wonderful beach-side locations.
If you want to go somewhere and feel the luxury for every moment of your holiday, there's no place to stay quite like Ibiza, it is a true anomaly in the most utopian ways. You can even go as far as renting an entire island, with Villa Tagomago Island, a 5-bed villa isolated on Tagomago island just off the coast of Ibiza itself.
It would be near impossible to list all of the awesome places to stay in Ibiza, but take our word for it, and go explore all the fantastical options with your PTS member, as is the trend with Ibiza, there's a little something for everyone.
4. Daytime Parties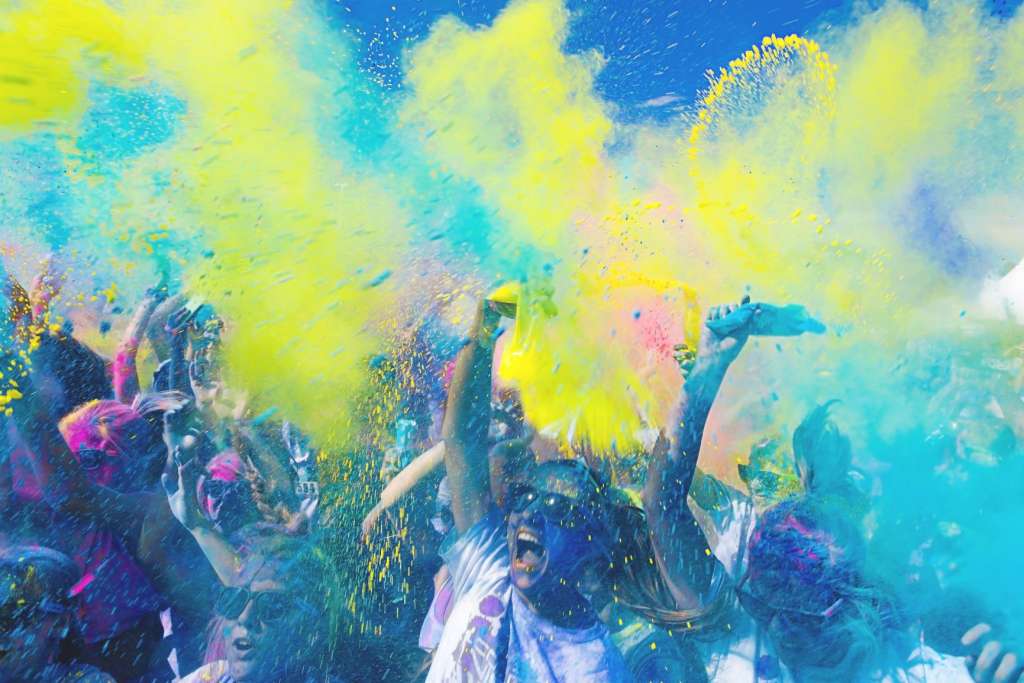 There's pretty much something exciting going on every week, if not every day, in Ibiza. No matter when you go, there's going to be day long parties, roaring clubbing nights, long, music-filled boat trips, and the classic daytime parties to match. Fair to say, you probably won't be getting much sleep in Ibiza, but you will love every second of it.
For such a small island, Ibiza is bursting with parties and music, and you won't find yourself getting bored of it.
With such gorgeous natural scenery, the sun overhead, and open-air parties with awesome musical talent, what could possibly be better? You can enjoy all aspects of the island in one place.
There's Ushuaia, popular for its EDM DJing, Hotbed, embracing live saxophone music and beach ready dancers, all taking place pool side so you can go for a cooling dip, and more. There's basically a party for each day of the week, so you won't be missing out.
5. Retreats and Yoga
From parties and clubbing to a luxury detox, wellness and bathing in relaxation, we can't make this list without mentioning the classic retreats that Ibiza has to offer as one of our reasons to visit Ibiza.
From one side of the island to the other, you can leave the parties and clubs behind, take in the breeze and relax with yoga, meditation, and wellness retreats. With a range of natural health resources, it's no surprise that Ibiza is well known for its variety of great wellness companies.
It's also well in line with the accepting, relaxed, and natural boho vibes of the island and community. With a focus on being sustainable, healthy, delicious foods, the facilities to bring focus to your centre and explore relaxation to it's fullest, this side of Ibiza is a complete opposite to its counterpart.
You can explore private or group yoga classes, book into a myriad of different retreats depending on exactly what you're looking for, and forget all the aches you may have gotten partying too hard the night, and day, before.
Ibiza has an entire wellness centre site that you can explore to find out more about the experiences they offer across the island.
6. The Sunset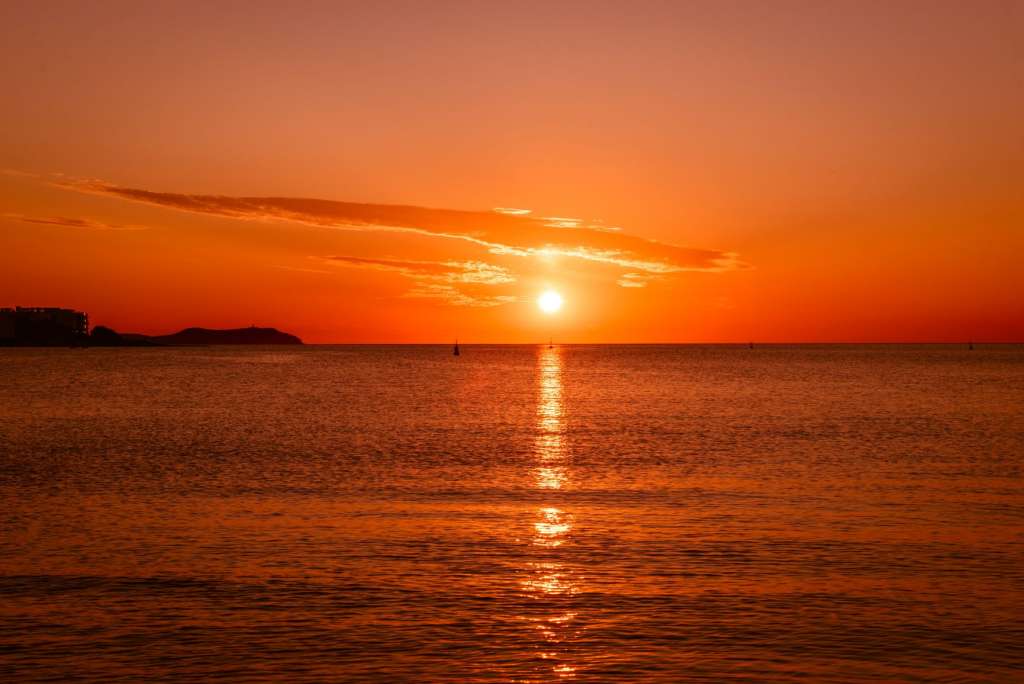 There's a reason Ibiza has its very own sunset strip. And this is because of their famously beautiful sunset that most who have visited would call one of the big reasons to visit Ibiza.
Whether you enjoy it while partying the days away, or take some downtime to relax and take it all in, the sunset in Ibiza is a unique and wonderful sight you should take the time to appreciate at least once during your stay.
Winding all the way from San Antonio's port to the northern tip of the beach in Cala d'es Moro, the sunset strip is an experience itself, and the perfect spot to watch the sunset from, of course. It is lined with bars and restaurants, so you won't be taking in the sunset without a good drink in hand and excellent company.
And all the venues, bars, and restaurants along the strip stay open late into the night so that you can get the full affect that this island's view offers.
7. Old Town Ibiza and Delicious Food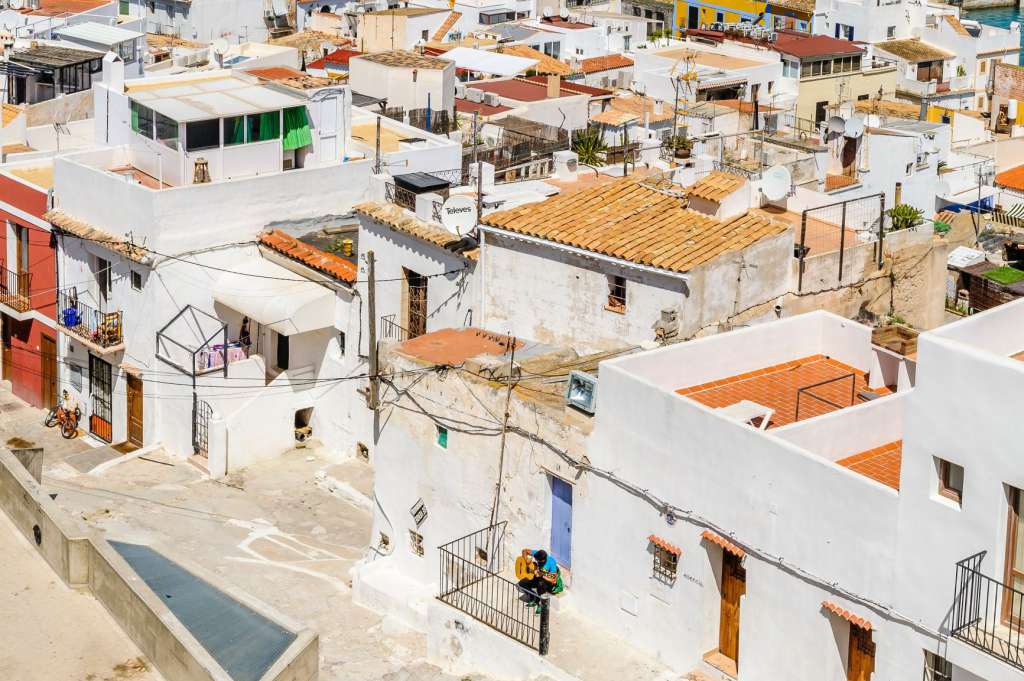 If you're looking for some older, historical, and quieter atmosphere, the Old Town Ibiza is one of your reasons to visit Ibiza. Traditional and steeped in history and culture, it is a stunning place, and in a little world of it's own, you would hardly know you'd just come from the bustling San Antonio and the biggest party of your life.
You'll want your camera for this one, with so many old structures still standing strong, some as far back as the 16th century. This outlined in the natural views and the clear blue ocean.
It is also the place where you'll get the best traditional food on the island. With a few different Romantic influences, the food is warming and delicious. You can sit in a traditional restaurant and enjoy the view, anticipating the other worlds the island has to offer with a satisfied stomach and soothing atmosphere.
We can hardly give this place credit in writing, the full affect of it is one you can only get in the midst of it, and between the relaxing resorts and retreats, and the wonderfully chaotic parties, this is just a dip in another flavour that Ibiza brings to a holiday.
8. Boho Vibes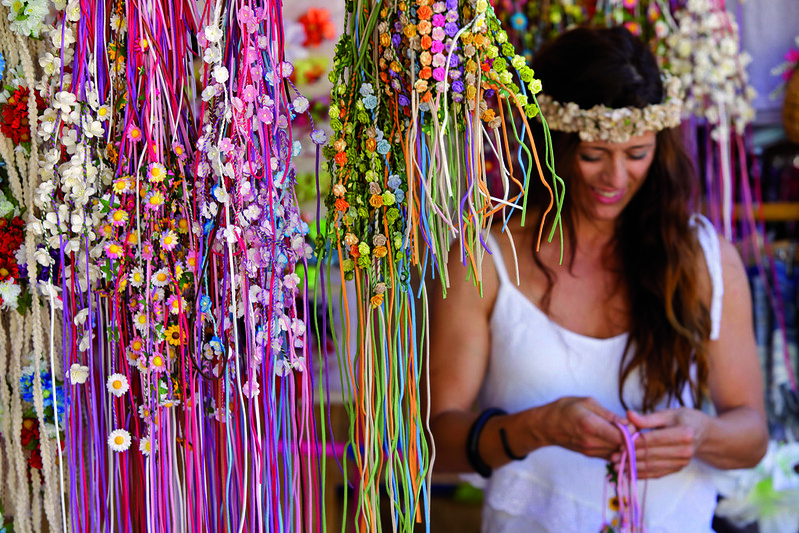 From the classic boho decades of the 60s and 70s, to present day, Ibiza's hippy/boho atmosphere has held strong and become a part of their culture that is easily one of the top reasons to visit Ibiza. Even before then, since the 30s Ibiza has been a peaceful and natural spot for avant-garde European artists forced to run.
It is around this culture of peace and equality, and the offer of refuge that a lot of the community and boho atmosphere has stemmed, creating the wonderful other world we see today.
From this Ibiza has become famous for its markets, selling not only fashion, handicrafts, pottery, unique instruments, and original costume jewellery, but an immersive look into their history.
If you're looking for a holiday that will take you far away from home, while being incredibly accessible, Ibiza is the place you'll want to be. I also highly recommend you check out the Ibiza Tourism Board page on their hippy heritage, it's an incredibly interesting and heart-warming part of their history.
9. Es Vedra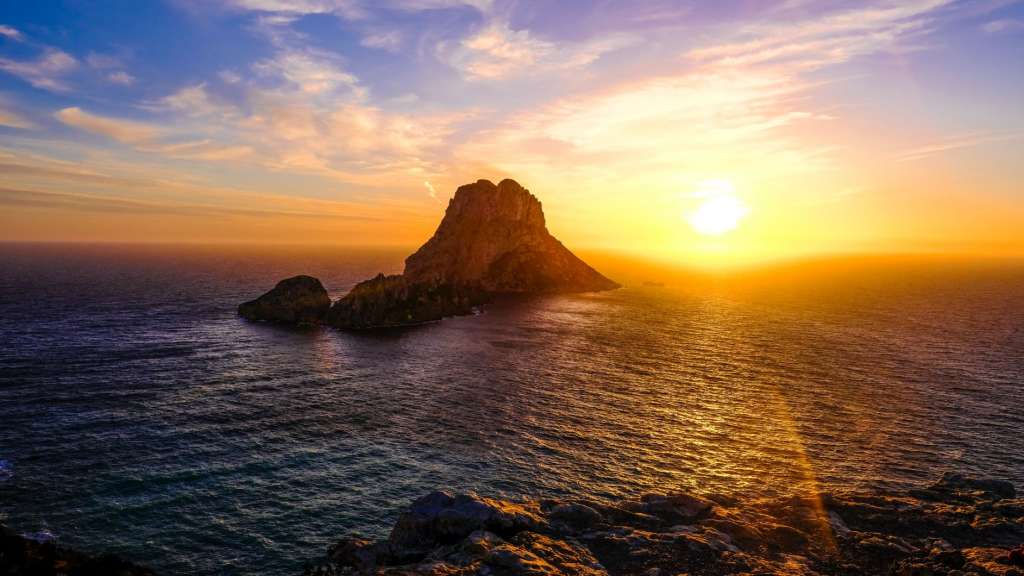 One of the small islands surrounding Ibiza, Es Vedra is an unpopulated island that is preserved and protected as a natural park for Ibiza.
Located just off the coast of Cala d'Hort on the western coast of Ibiza, it is even more than just the natural park, associated with a lot of local folklore, myths, and legends, and rising up out of the sea when you approach like a volcano, Es Verda may seem like a fantasy land waiting to be explored.
It is a truly magical place, and only a short boat ride from Ibiza, so you can leave the bustling city life and take a day trip to this natural oasis.
It also has a wonderful climate all year round, like it's neighbouring islands, so no matter when you go on your holiday, the weather will be warm and comfortable for all your exploration and relaxation.
If you want to find out more about Es Vedra specifically, you can visit the Es Verda site to see all it has to offer.
10. Family Friendly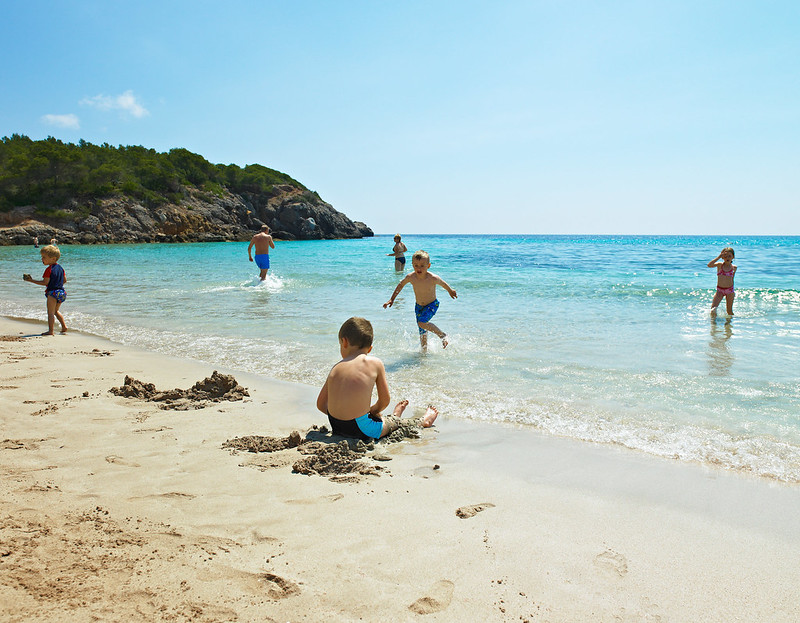 Not only is Ibiza beachy beautiful, natural, and inclusive, but it's a great family friendly destination too. With calm ocean waters at the beaches specifically, it's a great place to relax with your whole family.
There's also plenty of kid-friendly activities to occupy their time while you get to relax. With water parks, boat trips, kids' clubs, and the chance to swim with dolphins, this isn't a spot that's exclusive to an age group, it's welcoming and interesting for all.
When you're ready to book your awesome Ibiza getaway, don't forget to book with a trusted, experienced, and friendly Protected Trust Services (PTS) member. Our members do a range of excellent and exciting holidays just waiting for you to book. If you're unsure which of our lovely members to choose, you can call PTS directly for recommendations at 0207 190 9988.
And if you'd like to learn more about your consumer protection or the package travel regulations, then you can check out our pages, and visit our blog for more consumer protection insight.
It is important to be aware that as of the 7th of July 2021, the Balearics (this includes Ibiza) are tightening some restricts due to increase in Covid rates, and they are on the UK green watchlist. We advise if you plan on travelling there, that you check the FCDO travel advice page first, just in case.
Share This Story, Choose Your Platform!