When we say reasons to visit Denmark, I'm sure the first few things that come to mind are Copenhagen, Carlsberg beer, and of course, danish pastries. In itself that sounds like a lovely day out, but Denmark is known and loved for many other exciting things, and with Scandinavian history, it's no surprise that Denmark is a wonderful and inspiring destination for your next holiday.
From the cuisine to the design, the history and the culture, the gorgeous landscapes, and more, Denmark perhaps shouldn't be limited to just 10 reasons to visit, but we're sure we can convince you in less.
1. Cuisine
If there's anywhere you could go for the food alone, it's Denmark. No matter where in Denmark you decide to go, you're going to find some fantastic and fresh cuisine, whether it's restaurants, cafes, bakeries, pubs, or the plethora of sweets they have on offer.
Of course, some of the most famous and well-loved treats in Denmark include their fabulous pastries, now known as danishes across the world. The beer and wine is also a top hit and there are many breweries you can visit for a beer tasting adventure that could easily merit a day trip.
Next to these famous treats, the restaurants provide some delightful foods, with fresh produce and plenty of excellent meat on offer. Whether you're going for a fancy trip in the city or just to a small local place wherever you're staying, it's all going to be fantastic. Plus, if you've got the sweet tooth on you, Denmark is known for being a magical land for sweets, including their famous salt liquorice (though perhaps that one is an acquired taste.
2. Copenhagen
Admittedly, Denmark's capital city is famous for very good reason, hence it being one of the awesome reasons to visit Denmark on this list. Whether it's the beautiful design that you can see throughout the city, it's enrapturing history, or perhaps the royal family that attracts your attention, there's no doubt you could spend an entire holiday in Copenhagen alone and still have more to explore.
The royal family are by far one of the biggest attractions in Copenhagen, as one of the oldest continuing monarchies in the world, there's a rich history to follow when you visit, and this is known to be a great experience. This being only one of the fantastic ways to explore the city's history, with many grand museums and art galleries to enjoy as well, and the stunning architecture and interior design, both old and modern.
It is also one of the most accessible and active cities you'll visit, optimised for those who love to cycle. And it's close to many other attractions so you can take a great day trip to some awesome places like the historical winemakers that once housed Vikings and some stunning natural sites in South Zealand with the soaring cliffs and gorgeous night sky.
3. History
Perhaps it's already obvious, but the history in Denmark is remarkable. From the Vikings to the royalty, the land and the culture, there is so much that once was and still is that has formed the Denmark we see today and not a bit of it will bore you.
Whether it's the history of their food, wine, and beer that fascinates you, the architecture they're so known for, or even the story of Hans Christian Andersen that you want to hear more about (you can even visit his house), there's a historical adventurer for every kind of explorer in Denmark and reading up on it online won't do the justice that being there in the middle of it will.
With so many places to recommend, it's hard to narrow it down to just one, but we will highly recommend you visit at least one of the majestic castles that Denmark has to offer. Whether it's Rosenborg Castle with its 400 years of royal history, art, and splendour, or perhaps you are a Hamlet fanatic and want to visit the scene of one of Shakespeare's best known at Kronborg Castle (to be or not to be in Denmark, that is a very easy question).
4. Tivoli Gardens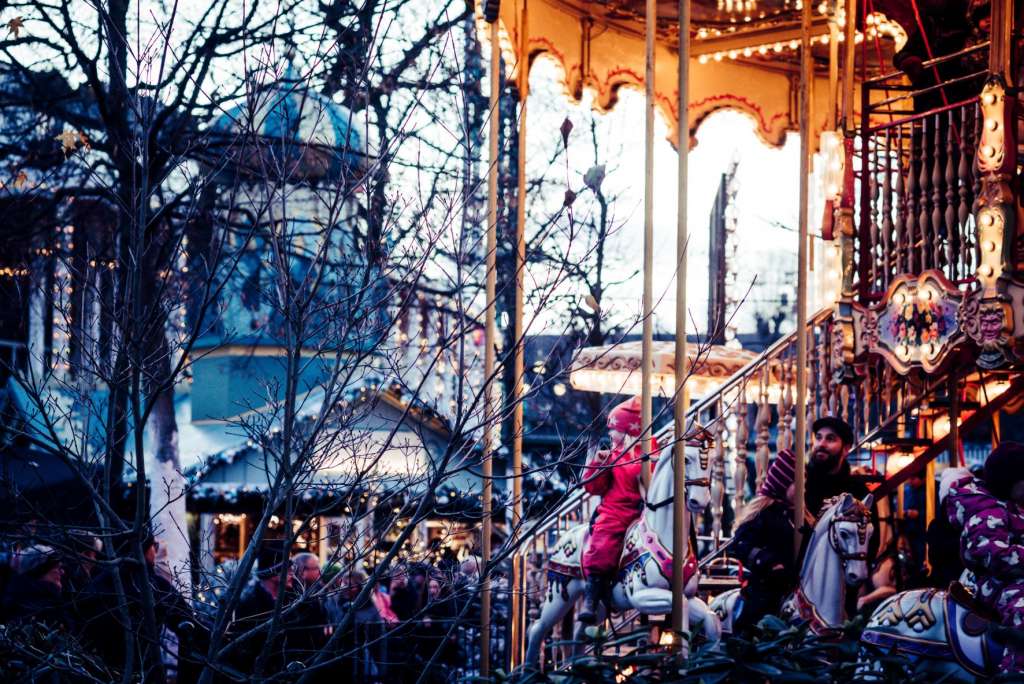 Known for being the oldest amusement park in the world, Tivoli Gardens is still a great and loved attraction in Demark today and it's open to visitors all year round.
Whether you're going as a family, a couple, with a group, or on your own, there are so many magnificent attractions in Tivoli. From the rides to the gardens, the restaurants and the view all year round, you're going to have some of the best fun you can find in Tivoli Gardens.
There are other attractions too, with the aquarium, concert hall, historical gardens and market town, and the diverse range of other gardens on offer, you'll easily get sucked in exploring Tivoli even if you're not seeking the adrenaline rush of their awesome rides. You can even get a year-round pass, something you may be needing after your first visit dazzles you.
5. Cycling and Surfing
Did you know that Denmark is one of the most active places you can visit? Easily one of the top reasons to visit Denmark comes the cyclist's paradise. With even the cities optimised for bicycle travel, this is a utopia for those with an inclination towards two wheels over four.
Whether you're in the city or striking out into nature, the roads in Denmark are perfect for cyclists of all skill sets, and they even have plenty of cycling programs that mean you won't ever be far from a bicycle when you want one. This is a top-of-the-bucket-list item for certain if you're a cycling enthusiast, and we highly recommend you pack up and visit for an adventure, you're not going to regret it.
Next to this, Denmark is a spectacular place for surfing. Though it is certainly cooler than some other surfing destinations, the beauty of the landscape and great waters will easily convince you to grab your board and head down to the Danish shore for an awesome ride on the waves.
6. Ribe
If the capital city isn't your thing (and even if it is) another spectacular city in Demark is Ribe, the oldest city in the kingdom. Not only is it the oldest city in Denmark's kingdom, but based on its first mention of existence all the way from 860 when Bishop Ansgar decided to build a church in Ribe, it is actually the oldest standing city in Northern Europe.
Finding such a preserved and loved piece of history is like stepping through a portal, with Ribe echoing the stories of over a millennium of European and Scandinavian culture. With some preserved monuments captured in time like the Viking Centre that lets you live out the day of an ancient warrior in Ribe, it is an experience that transports you back in time.
Despite all the history that has passed through this city, Ribe has also continued to progress and become an essential part of modern Denmark as a commercial hub, with fantastic accommodation, cuisine, and attractions on offer for locals and visitors alike.
7. Coastline
Denmark is pretty famous for having the ocean close at all times. No matter where you're staying or exploring, you're always a short drive away from the ocean, and subsequently, the gorgeous coastline.
Whether you want to hike, swim, or simply relax on a Danish beach, you're never far away from the opportunity, and Denmark has some truly stunning coasts and ocean-side spots to enjoy your trip. Why else would the Vikings have been such great rowers? A lot of Danish culture surrounds the water, which is no surprise with it so close, in fact, most of their trading is done by the ocean, and it's part of Danish law that all kids learn how to swim.
Plus, if you visit the lovely Skagen region of Denmark, you can find one of their great natural phenomena and actually visit the spot where the North and Baltic oceans meet, it's a sight you would never expect, and is a stunning view. With the ocean right there, it's a lovely little trip to take down to the peaceful beach.
8. Architecture
Okay, so we have already mentioned this a couple of times when talking about some beautiful cities, but architecture is truly one of the reasons to visit Denmark all on its own, it's famous for very good reasons, and if you have an artistic calling, or just want to see some beautiful buildings, Denmark is a must.
And the Danish are very active with the constant progression of their gorgeous architecture. You can visit the Danish Architecture Centre to learn more about ongoing projects and attend talks on their beautiful creations. Or you can even visit the architecture festival in Copenhagen where they go through film screenings, talks, and more to celebrate and explore their architecture.
If you're not an architecture enthusiast (yet) then there are also some stunning cities, you can visit to gander. For example, Holstebro has a wonderful trail through the town that gives your history and the stunning view of just some of their gorgeous buildings that will have you planning out a city road trip around Denmark in no time.
9. The People and Culture
Voted the second happiest place on earth after Finland, it's no surprise that Denmark has one of the most accepting and friendly cultures out there. From the people themselves to the education system and their wicked sense of humour, there's nothing that makes a beautiful place a perfect adventure like friendly locals.
A lot of Danes are fluent in English, so worry not about any language barrier anxieties you may have, you'll feel right at home in no time and be making plans for your next holiday soon after you begin your exploration.
Denmark is also one of the cleanest and most sustainable places you'll find, a fact that's true of many Scandinavian countries and is not missing here. Whether you're visiting for the culture or intending to strike out on a solo adventure, the welcoming atmosphere is still one of the best reasons to visit Denmark we can think of.
10. Rubjerg Knude Lighthouse
Ending off with a more specific, but equally glorious, reason to visit, Rubjerg Knude Lighthouse is a myth waiting to happen.
Right on the edge of the spectacular Rubjerg Knude dunes, the lighthouse is a fascinating attraction in a gorgeous location, and at the very top, you have a magical view of the North Sea and Vendsyssel. And why is this specific lighthouse such a big attraction, you may ask, well, this particular lighthouse has had a tendency to move.
You read that correctly, because of its location and the untamed winds that batter these cliffs, Rubjerg Knude Lighthouse had slowly been shifting closer and closer to the water and was in danger of collapsing into the ocean. In 2019, builders succeeded in a grand effort to move the lighthouse to a safer location, an event that was widely celebrated and spectated, now giving the lighthouse another 30 years to stand its post.
The lighthouse now attracts more tours and guides than before, with the spectacular event a great and recent part of its history that is still celebrated with its extended lifespan. So, if you want a fantastic piece of history and community in one spot, coupled with a fantastic visit, Rubjerg Knude Lighthouse is easily the way to go.
And that's just the top 10 reasons to visit Denmark. If you want to learn more about the great reasons to visit, don't forget to visit the VisitDenmark page to learn more about your next holiday. And when you're ready to book your next holiday, don't forget to get in contact with your PTS member, or call PTS directly at 0207 190 9988 for assistance in picking the perfect PTS member for you.
If you'd like to learn more about your consumer protection or how your holiday is protected by the Package Travel Regulations, don't forget to check out our pages.
Share This Story, Choose Your Platform!